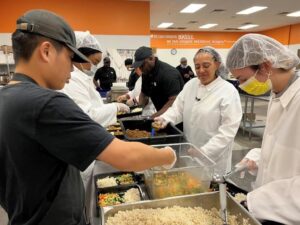 ORLANDO – For generations, food has been used for medicinal purposes and is known to play a critical role in a healthy lifestyle. That's a driving force behind why Second Harvest Food Bank of Central Florida recently launched its new Medically Tailored Meal (MTM) program – a pilot aimed at helping people experiencing food insecurity and managing at least one severe illness.
With the inception of Second Harvest's MTM program – funded by a grant from DaVita Giving Foundation – local healthcare providers can now refer eligible patients with chronic kidney disease to the food bank for enrollment.
"This is the next way for Second Harvest to 'feed hope' to our Central Florida neighbors," said Dawn Koffarnus, Chief Health Systems & Financial Officer at Second Harvest. "Food insecurity not only increases the risk of someone developing health issues but can also worsen the complex challenges of managing a chronic illness. We hope to transform lives by delivering meals that are nutritionally created to treat a specific ailment directly to the homes of patients in need."
An estimated 133 million Americans suffer from at least one chronic illness, such as hypertension, heart disease or diabetes. Second Harvest's goal is expanding MTM to treat additional conditions, including chronic illnesses that occur simultaneously.
Second Harvest created the Health & Hunger Task Force in 2016 to identify opportunities for the food bank and healthcare organizations to collaboratively and measurably affect the health of Central Floridians facing hunger by using food as medicine.
In 2022, Second Harvest received training on operating an MTM program by participating in a 12-month specialized accelerator offered by the Food is Medicine Coalition, Community Servings, God's Love We Deliver, the Nonprofit Finance Fund, and the Center for Health Law and Policy Innovation of Harvard Law School.
For more information about MTM or how to support local hunger relief efforts, visit www.FeedHopeNow.org.